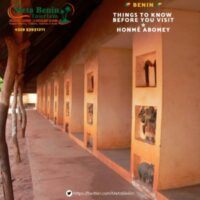 Benin was the cradle of the voodoo arts and played an important part in the growth of the
African slave trade. In the African country's history, these two things are only a small part of the
equation.
Benin is a small country with only a few big cities, but it begs to be explored and rewards its
visitors with museums, beautiful architecture, and markets that are truly memorable, so it's worth
the trip.
Benin's natural beauty also has a lot to offer tourists who come to see it. You'll find everything
here, from palm-fringed Atlantic beaches to elephants, lions, and other exotic animals in the
national parks, not to mention uncommon bird species.
While Benin is located in an underdeveloped part of Africa, it is amazingly well-suited to
tourism and is truly an untouched location. In comparison to other African countries, the roads
are in good condition and the facilities for tourists are superior.
As Benin is still a relatively new tourist destination, it will seem like a great adventure to visit
the country. To get a taste of Africa, Benin is a terrific place to start because it has it all:
excellent wildlife, beautiful beaches, hospitable locals, and a welcoming atmosphere for tourists.
Benin is currently Africa's most safe and secure country. There is no crime, most businesses are
open 24 hours a day, and public transportation is available at all times. The current government
is stringent when it comes to public safety, and as a result, robberies and other forms of theft are
no longer frequent.
1. Cotonou
Despite the fact that the country's capital is located in Porto Novo, Cotonou is considered the
most important location in the country. This is due to the fact that Cotonou is the center of
economic and social activities, making it the perfect location for tourists to go out and
unwind. One site to visit is the museum, where you may learn about the history of the
monarchy over the years.
For those who aren't particularly interested in history, the Boulevard St. Michel is a good
place to go. This place is also very popular with tourists because it looks a lot like Paris at
night.
2. Porto Novo
Because Porto Novo is the city's capital, there is constant hustle and bustle throughout the
day. To begin your exploration of Porto Novo's stunning attractions, begin at the Porto Novo
Museum of Ethnography. Here, you'll be astonished by the enormous collection of Yoruba
masks, as well as the city's and Benin's history. The Musée Honmé, commonly known as
King Toffa's Palace, is a great place to learn about life as an African royal. This isn't all: you
could also go see a palace or a palace for governors and find out more about how the country
is run.
3. Abomey
For over 300 years, beginning in the 17th century, Abomey served as the capital of Ancient
Dahomey. The city's primary draw and reason for visiting are the Abomey Royal Palaces, a
Unesco World Heritage Site. Although the palaces have been entirely destroyed and are in a
state of ruin, the location retains immense historical significance, and the stories of the kings
who previously stayed here are interesting.
4. Bohicon
It is more of a site to pass through than a destination to spend an extended period of time.
Although the city is virtually entirely modern, it is well worth touring the bazaar, which is
arguably Benin's largest and finest. The contrast between the bustling bazaar and the relative
serenity of Abomey is startling. The bazaar's most fascinating hours are in the mornings, and
these should be avoided if possible (unless, obviously, you do well in the chaos).
5. Ouidah
Because of different historical events, Ouidah has a blend of French and Portuguese
influences. The city is around 40 kilometers from Cotonou and, in comparison, is more
easygoing. If you have an interest in African history (which you should), this city should be
at the top of your list. It is home to magnificent museums dedicated to slavery and voodoo. If
history becomes too much for you, Ouidah also has other gorgeous beaches to relax on.

During the 18th century, Ouidah was a major location for the slave trade. It was one of the
places where slaves were taken to America before they were sold. The point at which
enslaved people began their voyage to the New World. The Old Portuguese fort, which has
been converted into a museum, transports us back to one of history's most unforgettable
episodes. There is a slave road leading to the "Gate of No Return" that was walked by
chained men, women, and children.
6. The Grand-Popo
Grand-Popo has an unusual history, owing largely to its pivotal role in the slave trade. The
village is awash in African beauty, and the locals are welcoming. An hour's drive from
Cotonou, this small town is a great break from the city. The town has numerous backside
hotels and resorts, and the beaches are ideal for relaxing and swimming. The nearby Mono
River is a great place to go for a walk and see mangroves and unique bird species.
7. Natitingou
When you visit Benin, you should make a stop in Natitingou, which is only 50 kilometers
from the Pendjari National Park.
8. Tanguieta
This lovely hamlet is an excellent location for viewing colonial French architecture in Benin.
It's a good place to start if you want to see the Tonogou Waterfalls or the Pendjari National
Park, which is home to lions, hyenas, and elephants.
Conclusion
Benin is one of the best places to visit in Africa for so many reasons. First of all, it offers
everything from culture to history to amazing scenes and weather variations. While your friends
will be posting pictures of the same tourist places that everyone visits, you can own the social
media by posting unexplored places. Come to Benin and experience amazing places and the
amazing hospitality of people.